Just because we're headed into the cold-weather season doesn't mean that you should pack away the patio furniture and stay indoors until Ground Hog Day. With the right planning and preparation, you can enjoy your outdoor living space all year long. Here are 7 tips to keep you living the good life in your own backyard.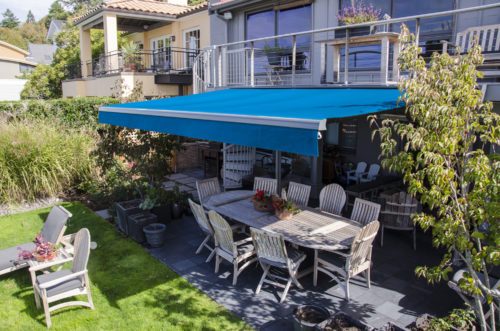 1. Cover Your Patio with a Retractable Awning
Sitting outside in rain and drizzle is no fun when you don't have anything over your head keeping it dry. Hiring a contractor to build onto your house to create a patio roof can be an expensive and lengthy project. Luckily, Rainier Shade offers retractable awnings that allow you to extend the area of your outdoor living space, will keep you dry outside during the rainy season as well as cool and shaded in the summer. Just to make sure to retract the awning during inclement weather or when not in use. To find out what type of awning would be best for your home, contact a dealer near you and schedule an in-home consultation.
2. Stay Warm with a Power Screen
When the wintertime comes around, there's no better way to enjoy your patio than a warm area and a hot cup of cocoa. Rainier power screens can help keep the cold out and the warmth in, especially with a heat source. It can also offer a level of privacy so that you can stay out while no one looks in. Learn more about Rainier Power Screens here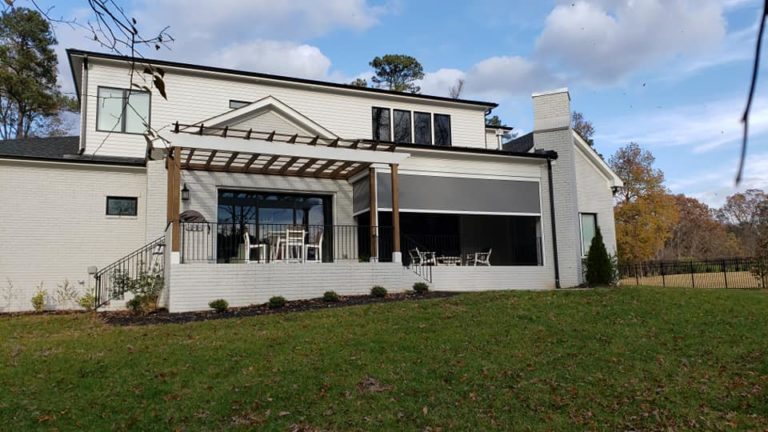 3. Get an Outdoor Heater
Depending on where you are in the country, this winter's going to get a little chilly, but that doesn't mean you can't sit outside and do some stargazing or sipping on hot cocoa. Investing in an outdoor heater will not only keep you and your guests cozy but will also add an extra layer of ambiance outside. You can find tall propane heaters, table style fireplaces, or octagon stoves like this one from Rainier Outdoor: https://rainieroutdoor.com/kwik-kamp-octagon-stove.html
4. Warm Up in a Hot Tub
One of the best things about having a hot tub is that it can be used year-round. There is nothing more relaxing than soaking in a hot tub on a cold night, or better yet, a snowy night! Doubling as your own private spa, it can also help relax and soothe achy muscles.
5. Add Some Mood Lighting
No outdoor living area is complete without lighting. Gather some hanging patio string lights or candles and watch the ambiance of your seating area change in an instant. Once you know what kind of lighting you want, make sure you know how to light them up. LED lights will last a long time, and traditional lighting might need some extra electrical wiring outside.
6. Weatherproof Furniture
If you really want to enjoy your outdoor space year-round, you'll need weatherproof outdoor furniture so that you'll be able to enjoy your outdoor living area for years to come. Look for furniture created from certain types of wood like teak, eucalyptus, and cedar, plastics like synthetic resin wicker, and metals like aluminum steel or wrought iron.
7. Entertainment
No outdoor living space is complete without some entertainment. Having an outdoor TV is a great option to have an outdoor movie night or enjoy the outdoors while still watching your favorite ballgame. Create some friendly competition by including a game of darts, cornhole, or ping pong.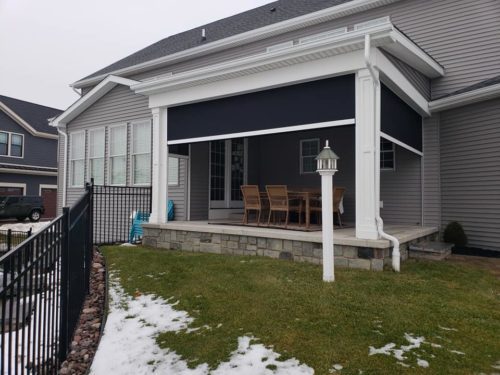 With a little planning, the right lighting, an outdoor heater, and an awning over your heat, you can enjoy your outdoor patio all year long.