So you want to buy an awning.  It's a smart move!  But it's a big purchase, and you're a smart buyer so you'll want to do some research before you sign the dotted line.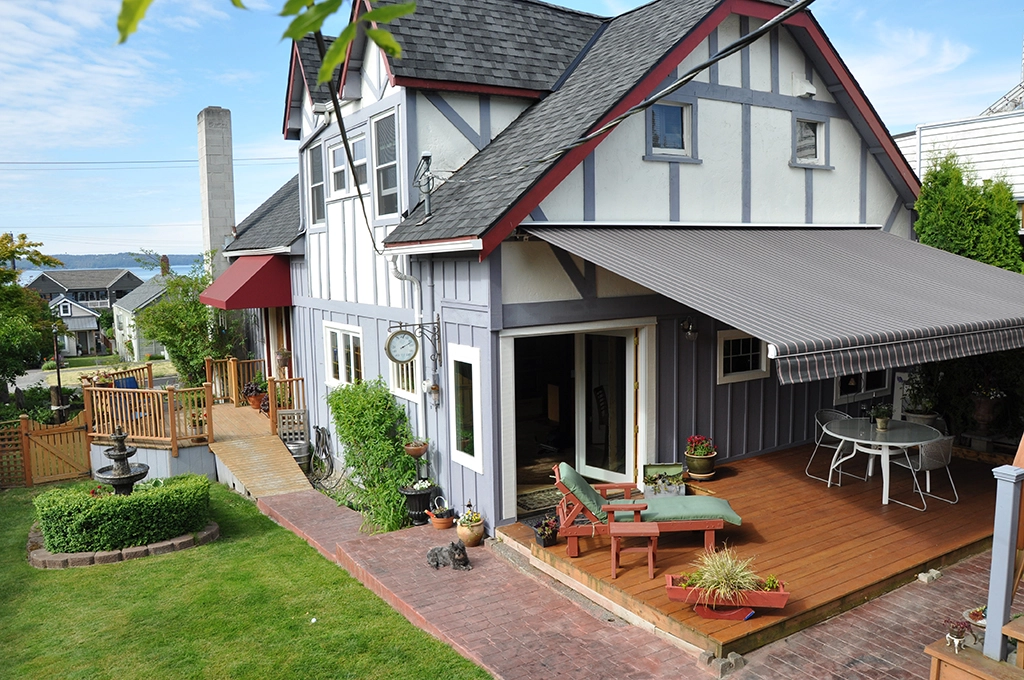 These are six questions to ask your salesperson (whether you're considering an awning from Rainier or one of our nationwide dealers.) We hope these questions will help you make an informed purchase decision.
Where will the awning be installed?
For most of our customers, the awning will be over a deck or a door.  Ask if the location will fit your needs and provide the protection from the shade you're hoping for.
How will the awning be mounted?
The awning can be mounted to the exterior wall, to the roof above the gutter, or to the eave under the soffit.  This is an important discussion to have, because this will affect the height of the awning, and thus, the pitch (or, how steep the slope is.) The mount will make a difference when it comes time for the awning to be installed.
What does the warranty cover?
This can be a little confusing, because the different components all have different warranties. On all products, our frame finish is
warranted to be free of defects in workmanship and materials under proper use and no closer than 1 mile from the ocean, for five (5) years from the original date of purchase. We warranty our installation for the first year. We use Sunbrella fabric that is warranted by the manufacturer for ten (10) years; and the motor is warrantied by Somfy (the manufacturer) for five (5) years.  Be sure to ask your salesperson for more detailed information.
Is motorized or manual the best option for you?
We're biased, but we highly recommend motorization for your awning! We've learned from customer surveys that the customers who have motorized awnings are much happier with their purchases than those who have manual. Motorized awnings are convenient (you can even control the awning with an app on your smartphone) and you won't have to use your arm muscles.
However, many customers choose manual operation. Often because they don't have electricity on their decks and having it installed would be too costly or, in some cases, their home owner's association would not allow for it.
What is the lead time?
You'll want to make sure that the awning can be installed at a time that is convenient for you.
Who will install the awning?We recommend working with a company who uses professional installers – like our skilled team! Some of our customers choose to install their awnings themselves, but be aware that this will affect your warranty.