Well, it's another hot summer here in Seattle!  The Rainier team is committed to sustainability, and we know that being environmentally friendly is important to our customers, too.  Here are a few of the ways that an awning or screen can help you go green this summer:
Using an awning or exterior screen to cool a home is more energy efficient than traditional air conditioning.  We participated in funding and research for an independent study which found that shading with a screen or awning can reduce cooling costs here in the Seattle area by over 60%! Our exterior screens keep as much as 85% of the heat from the sun from cranking up the temperature in your living room.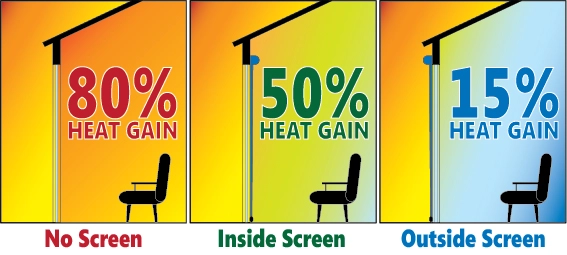 Nearly all of the components of our screens and awnings are manufactured in-house, so they're not being imported from overseas.  It's estimated that about 25% of the total carbon footprint generated today comes from the movement of goods between international companies.  This is called "embedded emissions," and it's pretty interesting –  Carbon Trust is the company leading the way in research on the topic, and you can read their article on embedded emissions here.
And if you're still not convinced, here are a couple of Rainier's bragging points:
We are ISO 14001:2015 certified – we have a sustainability plan in place and keep track of seven key measurements for our overall carbon footprint. Those are things like the quality of the air in our production facility and how our employees are getting to work (many of them regularly commute by bike!)
We were the City of Tukwila's #1 recycler in 2012!  We recycled or composted 99 tons of waste (that's 82% of the total waste generated!) in the first quarter of 2013.
We were also one of King County's best workplaces for recycling and waste reduction five years in a row, from 2012-2016!