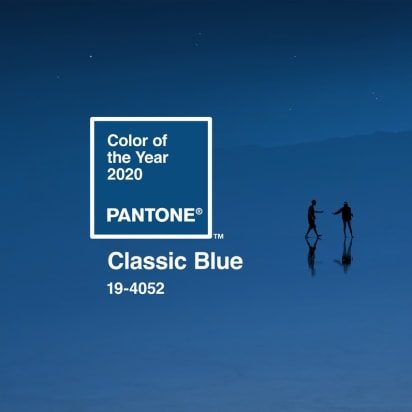 We're excited for the reveal of Pantone's 2020 Color of the Year, Classic Blue. It also happens to match our branding and logo, so we're pretty happy about that! This means we are going to see a lot more of this color heading into the new year. If you're not familiar with who Pantone is, they are the company that creates a color matching system used in a lot of graphic design, fashion, printing, manufacturing, and product design companies. You might have come across some of their color-matching books at a paint store or print shop.
Pantone's Classic Blue represents consistency, confidence, dependability, foundation, and is a representation of the night sky, challenging us to think and look beyond the cosmos.
For the past two decades, Pantone has released a Color of the Year, which is chosen based on current fashion and pop culture trends. 2020's Classic Blue is bound to influence what we'll see this year for home decor, clothing, jewelry, art, and graphic design.
So, how can you incorporate this beautiful color into your own home? We are now offering this color as a powder coat finish for our retractable screens and awnings! Get the timeless and classic look incorporated into your home by scheduling a free in-home consultation with a local dealer today.
Although you may not be ready to hang out on your patio just yet, it's actually a great time to get a head start on your home improvement projects, especially when it comes to scheduling services. The winter is a great time to make an appointment with a local dealer before the busy spring season.
A new year brings new possibilities for updating the look, feel, and functions of your home. We hope that 2020 brings you joy, laughter, comfort and color to you and your home!