Although we are in the middle of winter, you might want to start thinking about how you can get ahead on your energy savings this summer. More often than not, it isn't until after that first heatwave, after the AC has run full blast, and after the energy bill arrives that it is too late to start creating energy savings solutions for your home. Before it gets to that point, here are a few things to know about how you can save some dough on your energy bills this summer.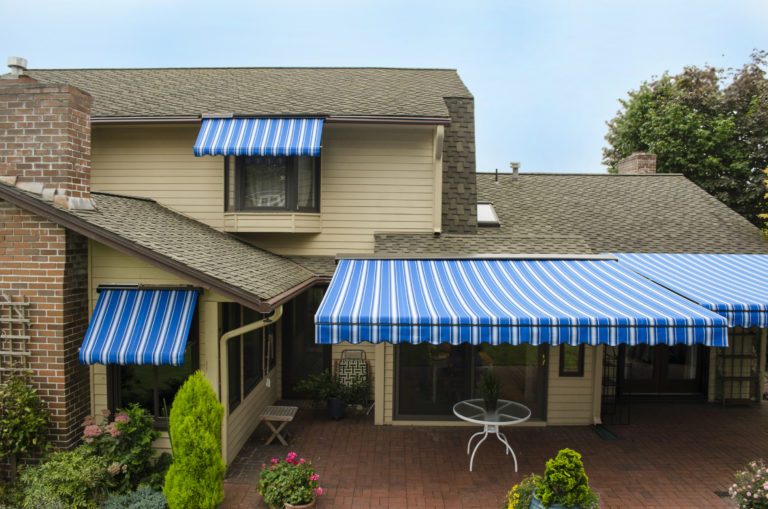 Awnings can reduce your cooling energy by 25%.
This can result in an annual savings of $200 or more a year, according to the Professional Awning Manufacturers Association (PAMA). The first step in cutting your energy consumption is to figure out which side of your house gets shade; this will help determine where you should install an awning.
Awnings can reduce solar heat between 55% – 77%.
On southern-facing windows, fabric awnings can reduce heat between 55% – 65% and 72% – 77% on western-facing windows. Since the sun's rays can increase the temperature in your home by as much as 20%, an awning can help keep your home cooler and can reduce your dependency on air conditioning.
Shades and awnings work in conjunction with your air conditioner.
According to the American Society of Heating, Refrigeration, and Air Conditioning Engineers, external shade devices like retractable awnings can minimize the heat load of your house. When you reduce the amount of heat coming into your home, you can also reduce the amount of air conditioning used. This will not only help save costs on your energy bill, but it is also environmentally friendly. By using less energy, you can offset your carbon footprint by emitting fewer greenhouse gases into the air.
The type of fabric used in your awning can influence your energy savings.
Choosing fabric for your awning is important because it can influence how much heat comes into your home and how much energy you can save. Choosing fabrics that are light in color helps reflect the sun's rays away from your home. Dark-colored awnings absorb heat and are ideal in colder climates that get a lot of light through the windows. Luckily, Rainier Shade offers Sunbrella® fabrics in a variety of colors and patterns. Sunbrella makes one of the longest-lasting fabrics on the market and is guaranteed not to fade for 10 years. For more information on Sunbrella fabric, click here.
To figure out how you can cut down on energy costs in your home, check out the Home Energy Saver audit tool.
Have more questions on how you can get ahead of the game on your energy savings this year? Schedule a free in-home consultation with a local dealer. They will come to you and help find the best shade and awning solution for your home. Click to find a dealer near you.