We're seeing the first signs of fall, which means it's time to move your patio furniture inside and stop spending time on your deck until next summer, right?  Maybe not!
With Americans spending more on outdoor rooms than ever before, it's not surprising they want to get as much from their investment as possible.  That's why manufacturers are responding with a wide assortment of heating appliances to keep you cozy even through the cooler spring and fall seasons.
These great options are based on suggestions from HPBA.org
Outdoor Heating Options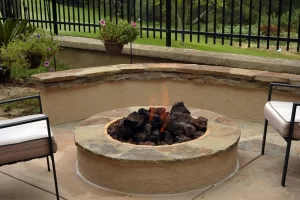 There are a number of options for outdoor hearths to safely build a fire and keep warm as the weather cools off.
Outdoor Fireplaces
Outdoor fireplaces can be permanently installed on your patio or outdoor room to bring charm and ambiance to the outside of your home.  Usually made of 100 percent stainless steel, outdoor fireplaces can be surrounded by granite, tile, stone, or any other material that complements your home's architecture and style.
Outdoor fireplaces usually don't require a chimney and can use either natural gas, propane or wood.  Prices generally range from about $2000 to $2500 and up.  HPBA strongly recommends installation performed by an NFI-certified installer (National Fireplace Institute).
Chimineas
A chiminea is a clay (or sometimes cast-iron) portable outdoor hearth.  These are probably the oldest outdoor fire appliance – besides building a campfire!  An opening on a chiminea lets heat out on just one side.
While they provide warmth and ambiance, they are not recommended for use on wood decks and can be subject to cracking and breakage.  Chimineas are often the least-expensive style of outdoor hearth.
Firepits
Fire pits have become highly popular with homeowners due to their portability, beauty, and convenience.   Fire pits are hearth appliances that are closest in style to an old-fashioned campfire because they radiate heat in a complete circle.  In addition, some fire pits come with grills and can be used for cooking.
Whether flush to the floor or elevated, fire pits can burn natural gas, liquid propane gas, or wood logs.  They produce between 50,000 and 70,000 BTU's of heat.  Most are made of steel and retail between $300 and $700.
Fire pits should never be used indoors, too close to the house, on the grass, or under an overhang or anything that could catch fire.   Do be sure to check the product manual to determine if you can safely use a fire pit on your deck – especially if you have a wood deck.
Patio Heaters
Patio heaters are also a relatively new product offering that are quickly gaining popularity.  These appliances can run on liquid propane or natural gas, produce 35,000 to 45,000 BTU's, and radiate heat 20 to 25 feet in all directions (farther than a firepit).
Patio heaters can be stainless steel (most durable, if high-grade), cast aluminum, or painted steel. Prices range from about $300 to $700.  While most patio heaters are free-standing, there are some smaller "table-top" units that produce up to 10,000 BTU's of heat.
This article is based on HPBA's recommendations located at http://www.hpba.org/consumers/outdoor-living/outdoor-heating-options