Rainier Retractable Lateral Arm vs. Sunsetter Retractable Lateral Arm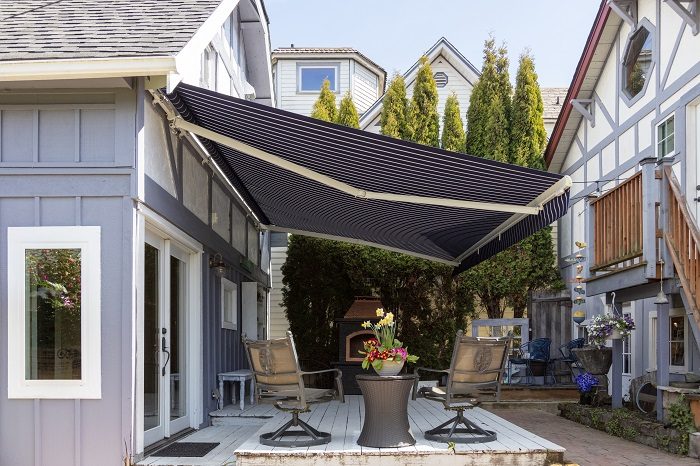 Where are the Companies Based?
Sunsetter's offices are in Massachusetts where they distribute to both their dealer network and direct to consumers online, over the phone, and through national retailers including Home Depot and Lowes. While the company is located in the United States, their product is only "assembled" in the U.S.
Rainier Shade has two locations – one in Tukwila, WA, and the other in Statesville, NC. Having two locations protects our production times. We have the ability to move jobs between both locations to keep an even production flow. Mechanical or supply issues do not stop our production, with two facilities in which to manufacture.
Who Makes the Component Parts?
A number of components in Sunsetter awnings are either manufactured or sourced from countries in Asia – China among others. While these components allow Sunsetter to offer a lower price, their compromise on quality limits their ability to offer long-term warranty coverage on their products. Certainly, cost is an important factor in the decision to buy, but the cheapest option is not always the best value for your investment.
Rainier Industries manufactures all the components of its screens and awnings, except for motors and fabric. All housing components are made in the USA. All assembly takes place in the U.S. including metal fabrication, fabric welding and sewing, powder coating, and quality assurance. We are prepared for the worst. Moreover, we have multiple part dies with varying manufacturers so that if they have issues, we are not out of product and can continue producing.
Who Installs the Awning?
Sunsetter awnings can be ordered through a registered dealer, direct-to-consumer, or through a retailer, who then hires either a local handyman or another company to install the awning. They may or may not be a licensed contractor, and there is no guarantee that the person installing the Sunsetter awning is covered by any form of insurance at all. These are risks that the customer should not have to take. Getting service after the sale could be an issue.
Rainier awnings are installed by Rainier employed installers, managed by a team of schedulers and installation managers. And, Rainier uses a certified dealer network across the United States. They are trained in all aspects of selling and installation techniques of Rainier products to ensure a flawless installation every time. This certified dealer network is there to service any Rainier awning, if needed, as it is part of their certification.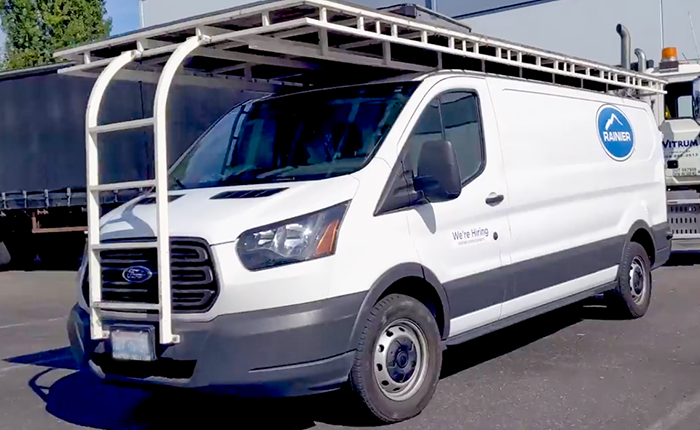 What Sizes are Available?
Sunsetter products are restricted to awning widths of between 10' and 20' in preset sizes; there are few made-to-order options. By supplying only fixed sizes and one frame color, Sunsetter can limit the number of choices they offer, keeping their costs down and maximizing profits.
Rainier awnings come in widths from X to X with projections from X to X. We offer sixteen standard powder coated colors and custom colors for our metal components, and over 200 fabric options. Rainier custom fabricates all awnings to specifications.
How Far Can the Awning Project from the Wall?
The Sunsetter awnings are available in 9', 10', and 11' projections. If the customers' needs are greater or less than this, Sunsetter won't be able to offer the range of shade needed.
Rainier Awnings are available in 5', 7'6", 9', 10'6", and 12'.
What Fabric and Color Choices are Available?
The Sunsetter awning offers only a single color choice for the metal frame components. There are only 16 fabric pattern options to choose from. If the customer truly wants a unique design and feel for their home or business, their options may be limited.
Uniquely, Rainier Shade offers sixteen standard powder coat colors, including textured coatings, for the metal components,  and can also accommodate custom color requests. Over 200 fabric colors and patterns are available, provided by Sunbrella®, the top fabric company worldwide. Rainier Shade provides a nearly endless combination of options to find the right design and fit for any home or business.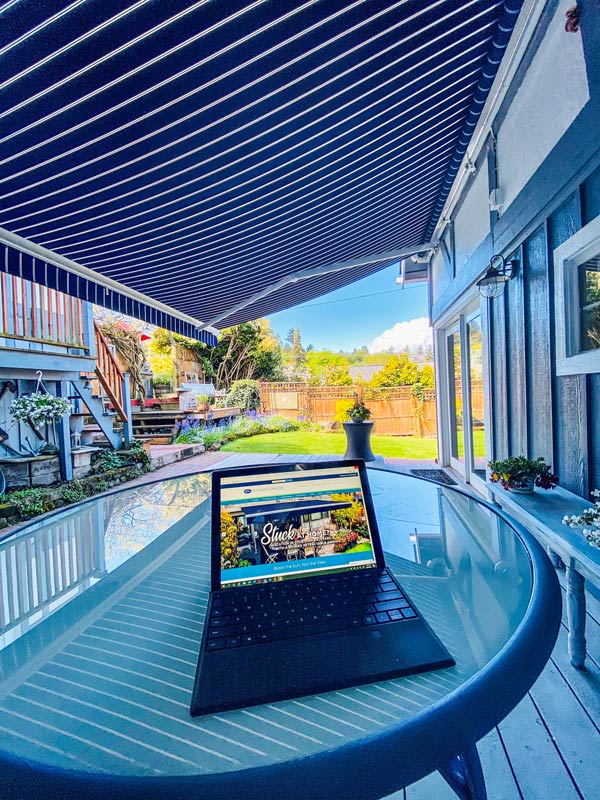 For more information on ordering Rainier Shade products, visit RainierShade.com.