Outdoor living spaces are an essential addition to homes. These spaces create unique environments where families and friends gather and build memories that last a lifetime. While considering an expansion to your outdoor deck or patio space, you may be questioning the difference between awnings and power screens. Our team frequently answers the question, "what's the difference between awnings and screens?" We gathered information from our team of experts to address the best option for your outdoor space, whether it be large or small.
Retractable awnings and power screens provide shade from the sun, but the two offer different types of sun protection. It's important to consider the depth of sun protection you need to enjoy the comfort of your deck or patio, year-round.
Let's start with the basics:
Retractable Awnings Shade Your Outdoor Space
We manufacture multiple configurations of awnings, but by far the most popular one is our retractable awning. Retractable awnings provide an extended outdoor space, beyond the walls of your home. In many cases, customers who choose retractable awnings have a deck or patio where they'd like to sit and enjoy a refreshing drink during the hot summer months, but the afternoon sun makes it too uncomfortable!
Retractable awnings provide sun when you want it, and shade when you don't. They retract and are self-storing when you're not using them.
Screens Block the Sun without Sacrificing Your View
Enjoy the outdoors on your terms with a power screen! We have a full line of screen products to choose from, but our most common is the exterior side-retention system.
Power screens are manufactured with mesh fabric extend straight up and down, making them the perfect choice for those west facing windows where the afternoon sun turns your living room into a sauna and creates a glare on your TV!
Using a retractable awning or exterior screen to cool a home is more energy efficient than traditional air conditioning. We participated in funding and research for an independent study which found that shading with a screen or awning can reduce cooling costs here in the Seattle area by over 60%!
Our exterior screens keep as much as 85% of the heat from the sun from cranking up the temperature in your living room.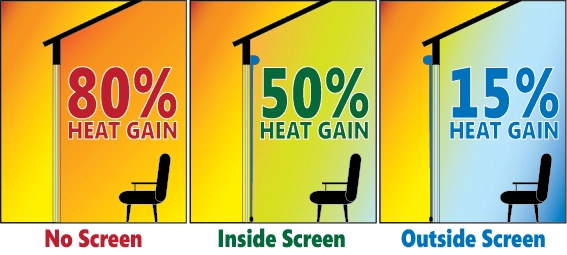 Making the Right Choice for Your Home
Choosing the sun protection solution that's right for you depends on which problem you have to begin with! We offer free in-home consultations, so we're happy to take a look at your situation and discuss which solution fits your needs and your budget.
Click here to request a consultation, and we'll get back to you as soon as possible.